Leadership from All Walks of Life #THSCEF2018 by THSCA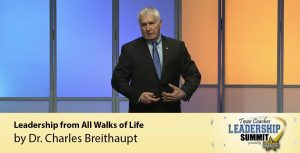 This presentation will inspire each of us to look at every aspect of our lives for lessons on leadership. Drawn from cartoon characters, the Bible, sitcoms, westerns, Noah's ark, the animal kingdom, coaches, political figures, Hollywood stars and more, Dr. Breithaupt will provide perspective regarding leadership from each arena. You will be provided tools from past and present characters from all walks of life that will prepare you to be a better leader.
Dr. Charles Breithaupt was named UIL Executive Director of the University Interscholastic League in February 2009 and was appointed Associate Vice President at the University of Texas at Austin in February 2011. He has served the UIL for the past 26 years. He oversees the academic, music and athletic competition for more than 1,400 high schools, 1,600 middle schools and 2,000 elementary schools in the state of Texas.
Prior to being named executive director, he served as associate director and director of athletics for UIL. He was promoted to associate director in August 2004 after serving as the athletic director for 14 years. Breithaupt is only the seventh executive director in the 105-year history of the University Interscholastic League.
Breithaupt worked in public schools for 17 years prior to joining the League. He began his career as an English teacher and bus driver at Buna Junior High where he also coached the seventh grade B football team, boys' and girls' basketball and boys' and girls' track and field. In 1991, he was coaching at Hardin-Jefferson High School when his basketball team won the AAA state championship, and he was named coach of the year.
During his career in public schools, he also has served as an athletic director, assistant principal, high school principal and as a school board member. He was inducted into the Southeast Texas Coaches Hall of Honor in 2001 and the Texas Basketball Hall of Fame in 2003. He was inducted in the Texas High School Coaches Hall of Honor in 2005 and was inducted into the Texas High School Football Hall of Fame in 2014. Dr. Breithaupt also received a Lone Star Emmy Award as Executive Producer of the High School Spotlight Show shown on Fox Southwest.
He has served on several national committees including the National Federation of State High School Associations Sportsmanship, Ethics and Integrity Committee and the NFHS Basketball Rules Committee. He has served on numerous state association, community and church boards. He currently serves as a deacon in his church and teaches a Sunday school class.
In 2012, Breithaupt co-authored "King Cotton," published by Eakin Press. This book chronicles the life of a legendary Texas high school basketball coach. He is currently working on four additional book projects.
A graduate of Buna High School, he participated in UIL several contests — spelling, headline writing and feature writing competition — and served as editor of both the high school yearbook and newspaper. In addition, he participated in football, basketball, baseball and track and field. He received his bachelor and master degrees from Lamar University in Beaumont, and he completed his doctorate degree at the University of Texas at Austin in July 1996.