A Champion's DNA (#A8) by Kevin Eastman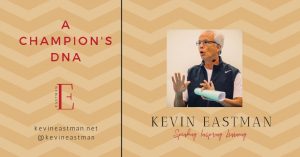 An inside look at what's important in creating a successful team and environment — based on years of observing and working with champions in professional sports.
The Coach
Over his 40 years in the game of basketball at the collegiate and professional levels, Kevin Eastman has studied what makes the best The Best — their habits, mindsets, strategies and every day choices. Known as a thought leader in the basketball and sports worlds, Kevin is now an engaging speaker who inspires a wide range of audiences, from sports teams to diverse corporate groups. What sets Kevin apart from many other speakers is that he has lived in the world of the best while observing and studying them every day. His curiosity and dedication to learning provide the backdrop for delivering powerful talks on leadership, culture, teamwork and why the best are The Best.